How to Swap your tokens for $EIV on UNISWAP #
For users wishing to buy on Decentralized Exchanges, Earniverse provides the following DEX:
How to buy on Uniswap #
Visit Uniswap for EIV Token (Make sure to connect wallet and select Avalanche network to see the $EIV token appear) – URL : https://app.uniswap.org/#/swap?outputCurrency=0xe9d62A1dAfFaA10E4f239936972807955aD765B4
Make sure you have connected your wallet and selected Avalanche C-Chain Network following this guide.
On the widget, select option swap
First line: Select currency ($AVAX, $USDC, $USDT or any other available in your wallet and compatible)
Second Line (if not displayed automatically): Select currency EIV Token or copy/paste contract address of the token in the widget search bar:


0xe9d62A1dAfFaA10E4f239936972807955aD765B4

Enter the value of tokens you wish to exchange to $EIV.
Uniswap will auto-calculate the number of $EIV you will get at the current exchange rate in order to complete your purchase.
Click "Swap" button to proceed
Once your wallet asks for a payment authorization, validate the transaction and wait until the transaction is confirmed.
Your tokens will automatically be transferred to your wallet.
Make sure to add $EIV token to your Metamask wallet to display your account balance: Display $EIV in my wallet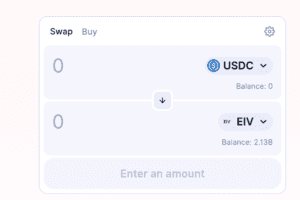 How to buy on Uniswap (Mobile Video) – NOT WORKING ON IPHONE #
Check this little video tutorial to buy $EIV on Uniswap using USDC/$EIV swap pair.
Uniswap URL: https://app.uniswap.org/#/swap?outputCurrency=0xe9d62A1dAfFaA10E4f239936972807955aD765B4
(Make sure to connect wallet and select Avalanche network to see the $EIV token appear)
$EIV Token Contract Address:
0xe9d62A1dAfFaA10E4f239936972807955aD765B4