Users having difficulties validating their transactions on UniSwap and seeing the following error message « Price Impact too high » will need to modify their slippage tolerance in the UniSwap Trading Window to ensure the transaction can be completed.   You will see the slippage icon in the top right hand corner.
What is slippage tolerance? #
Slippage tolerance is a setting for the amount of price slippage you are willing to accept for a trade. By setting slippage tolerance, you are basically setting a minimum amount on how many tokens you will accept, in the event that the price increases or decreases.
Why do I need to modify the slippage tolerance? #
By default, a DEX such as UniSwap will set a slippage tolerance value to maximum 0.5%.
The slippage requirement will vary from project to project (some projects have buy tax and sell tax although $EIV has zero tax) and it will also depend upon the liquidity available for specific trading pairs.
On most decentralised crypto trading platforms (DEX), you can set the amount of slippage you're willing to pay as a percentage of the value of your order. This number is your "slippage tolerance." If the trade's actual value is more than your slippage tolerance, the trade will not be made.
In order to Swap USDC or AVAX tokens to $EIV, users will need to set their slippage tolerance to a higher value % than the default value in order to authorise their transactions.
How to modify Slippage tolerance? #
A tiny box will open when you click the gear or settings icon in the swap widget's top-right corner. In this window, you may define the ideal slippage tolerance for UniSwap based on your trading strategy..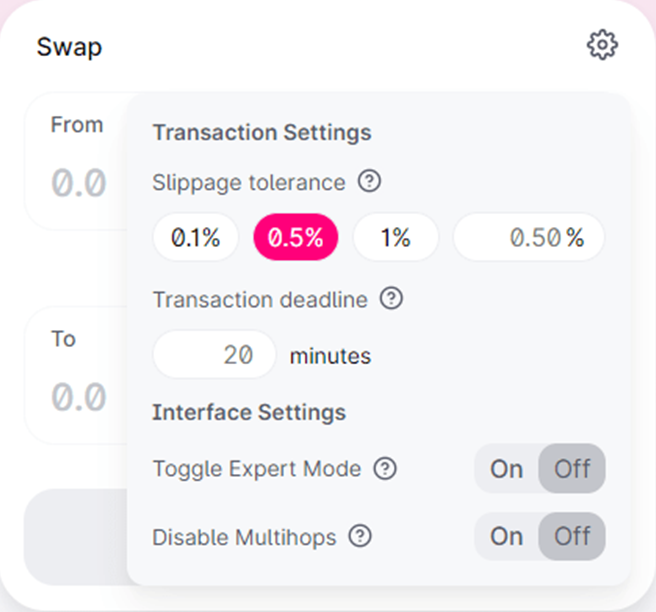 Which slippage tolerance value should I set? #
As the slippage tolerance is the adjustment of the price "movement" limit for the amount of digital assets you are willing to accept, the slippage % you set is entirely personal and will depend on your own investment strategy.
Although you are free to determine the percentage of slippage tolerance you wish to set, we recommend that our users increase the % value to the maximum they are willing to accept in order to make sure their transaction is authorised.
As a reference, for a swap:
Below 250$ value – 7,5% should be enough

Between 250$ & 500$ value – 15% might be set

Above 500$ + value – 20%+ might be necessary depending on the value of your investment
IMPORTANT NOTICE:
Without adequate slippage tolerance, your transaction will fail and, particularly in a fast-moving market, you will need to balance the percentage slippage against the increasing price of the token. Setting an insufficient slippage tolerance can very quickly result in an increase in the cost of your investment of more than the value of the required slippage, by the time the transaction is approved.